And now we bring you a random mish-mash of fun stuff, current loves, and new updates on hobbies. Live from Suburbia, Middle'oNowhere, NotNYC comes the man himself! You may now stop drooling on your keyboards. I don't even have a freakin' picture of myself on this page... yet. Pride is coming up here pretty soon, so there may be some fun pics coming, but more on that further down.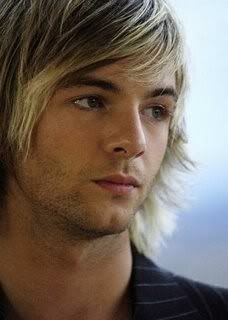 First, we'll start with the current crush. I have been crushin' hard on Keith Harkin and finally watched his Celtic Thunder show on PBS. It was beautiful. I loved his suits, or maybe it was how he fit into them. The kid is in great shape. He's only 20 years old! Apparently he's been singing since he was four, loves to surf, is from Ireland, and writes his own music. How can you not love his sexiness?! Here is a clip from his "About Me" section on his music page on Myspace-
"Years of playing live had already honed him into a solid live act at the tender age of 18. His own sound is both individual and unique - taking influences from artists as diverse as Led Zeppelin, John Martyn, Glenn Campbell and Jack Johnson and Paul Brady. He recently supported both John Martyn and David Kitt on their Irish tours - wowing these two demanding and very different crowds with his fresh sound. In his short time as a full-time musician Keith has packed in a lot. During his time in London 2005 - recording with a well respected producer - he also played in various venues and festivals in England - including a memorable show at the Tavistock Festival on Portobello Road. 2006 brought keith to "Dha theanga" an irish program on bbc where he played the lead role, rewrote and arranged all the music for the show. And now to date he is currently doing the monster hit show Celtic Thunder with a coast to coast tour of the states this oct till christmas. With his energetic stage presence and charismatic performances Keith's live shows are what live music is all about. Keith has been compared to everyone from Jamiroquai to Paul Brady and Maroon 5. BBC radio Ulster called him the 'Irish Jack Johnson'."
I'm lazy, so you all can go google him so I don't have to add the links.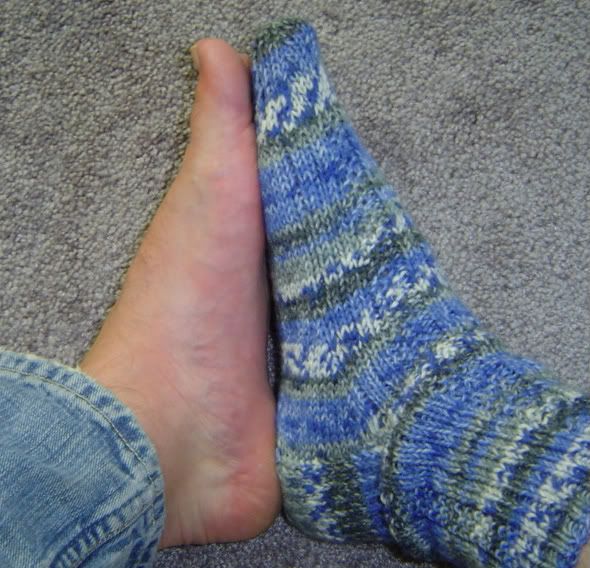 Also on the agenda for today is my current acomplishment in knitting. I did my first ever sock and it is great! I need to finish the second and I'll have a pair. Fancy that, huh? It's a pattern that my "mom" gave me done with some really cool yarn I also acquired from her. I have enough I might have to make some gloves to go along with it. It's a pretty simple pattern, excellent for beginners, I should know. I used a size 4 needle and they are just a bit too big. So with the next pair I make (there will be another pair) I'll stick to the 3's and we should be good. I'm going to post the project to
Ravelry
when I get it all finished. We are very close now. Only a few inches to go.
In other knitting newsflashes, I just saw
Maggie Sefton
at Barnes last week. She came in for a signing and before that we got to take her out to dinner. She had a blast, like she always does when she comes down. I'm thinking we need to take her up on her offer to visit Lambspun up in Ft. Collins. That, and it's been a long while since I was in Ft. Collins so a break there would be kinda fun.
And since the publisc outcry is so huge, I decided to post a picture of myself. So here. A picture. I take pictures so rarely of myself that maybe it was about time. I got this one when I had my last haircut. Guy that did it was really good. I may have to go back. For Pride 08 I plan to sport the fauxhawk again, kinda like last year.
Remember?
Right after the ear piercing? I want to get another piercing in my other ear now, but I think I'll wait 'til the photo ops die down after the end of June.
Speaking of the end of June, the 21st and 22nd are the big
Denver Pride Fest
days this year in Denver. The event is sponsored by the The Center I'm looking forward to going for the first time. Denver has yet to be graced by the Shawn Float in the Gay Pride Parade. Yeah, I could pull off an entire float all by myself. That's right, uh huh. Aside from doing the obvious things, I think a good majority of the time is going to be spent drinking and partying in the bars and clubs as every bar and club turns gay for about three days, and possibly going to Elitches. According to a friend, it's the happening place to be during Pride. I don't really know how I'm going to do all the drinking that weekend on top of getting plastered the weekend before that on the 15th. Well... nah, I'll be just fine.
Ah yes, the 15th. Also known as Shawn Day in 36 major countries. This will be the 23rd annual celebration of Shawn Day and there is going to be a big party here in Denver down on 16th Street Mall with festivities starting at about 7-8pm. Dinner will be at the
Rock Bottom Brewery on Curtis and 16th
. There is parking for you fools who want to drive downtown below the restaraunt and you will get a free parking token for eating at the Brewery. After a lengthy disturbance of the Brewery's atmosphere, we will be walking uptown, or driving for you crazy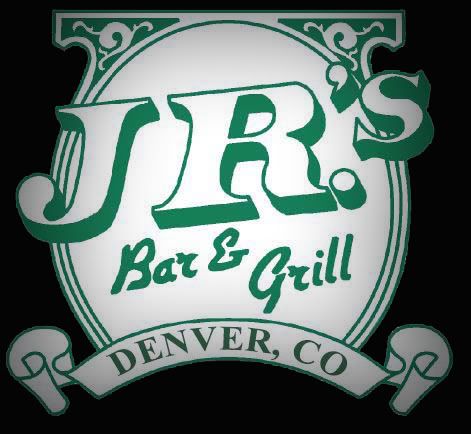 morons, to
JR's Bar
(17th and Clarkson) for excessive imbibing of alchoholic tasties. You all are expected to at least enjoy yourselves whether or not you drink. That's an order from the Shawn, and hey, you have to obey 'cus it's Shawn Day. If you do plan on coming, you should let me know. I kinda need an idea of how many I'll have attending my big celebration so I can pour over the guest list and decide which one of you I'm going to disinvite... psyche!!! We may need to reserve tables if we get big enough.
In art news, my college project done for a design class has hit the 150 mark for favorites. In
DeviantArt
terms that means 150 people have noticed and are posting it on their pages as a favorite peice. And why would I care? More face for my work. Just that many more people who notice and just a bit more fame to tack on. And hell, I'm so good at marketing my own work that I'm going to post it right here on my blog. Novice!
This has been an imagetastic post by Shawn aka Strange.